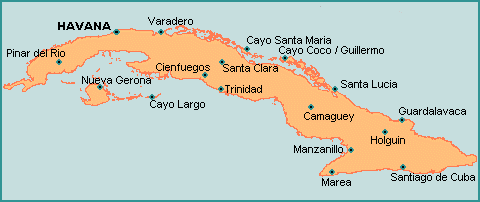 Cuban climate:
Cuba has a moderate subtropical climate with an average of 330 days of sunshine a year. There are two, clearly defined, seasons:
The DRY SEASON: from November to April, which is also the busiest tourist season.
The WET SEASON: from May to October, and in the latter part of these months Cuba is subject to the threat of the hurricanes which annually visit the Caribbeans.
The best time to travel to Cuba is between November and April, after the rains of the wet season and before the hot and sticky discomfort of the summer months.
Generally April and November -the transitional months between the two seasons- are particularly pleasant (weather-wise) because of the hot (day and night) and sunny weather but without being too hotŁ or humid, with almost no risk of cold fronts, and not too much rain.
Because Cuba is located on the southwestern periphery of the North Atlantic high atmospheric pressure zone, its climate is influenced by the northeast trade winds in winter and by east-northeast winds in summer.
The coolestŁ and dryest time of the year is December to February. During these months there's a greater risk of occasional cold fronts, especially in the northern parts of the country, but these cold fronts never last long, usually less than 2 days. Evening and night can be cool (16 to 20C) during these months.
The hottest months are June to September but trade winds and marine breezes help to keep things tolerable when the heat and humidity rise. Cubans take their holidays in July and August, so local beaches are more crowded at this time.
September-October is the peak of the hurricane season and also the cheapest time to travel. A serious hurricane does not come every year, but when it does it can cause severe flooding, damages and ordered evacuations.